Tuition Fees Schedule
---
Our reasonable fees mean students of moderate means can gain access to quality education, which will expand their range of choices, opportunities and qualifications for the future.
At AIU, we know that the high cost of tuition at traditional colleges and universities are not within the financial range of many prospective students. The statistics show that for the majority of working adults and professionals campus based programs are not the answer. AIU  is committed to offering very affordable tuition to fit your needs and your budget!
We have always been very fair, generous and considerate with our tuition fees, making it possible for students all over the world, regardless of their income, to earn a university degree.
Schedule of Fees  is quoted in GBP (£)
Tuition and fees are subject to change without notice. It is the policy of the University to collect all tuition and other fees from a student before he or she starts the course.
Tuition Fees: Degree Programs  (Tuition fees are for entire degree program, regardless of units to be completed),
                                              
Tuition must be paid two weeks in advance of the start of the current Term along with the submission of the Registration Form. Late registration is permitted up to the first day of the start of the Term, but Tuition and Late Fees must be paid before a student is considered enrolled in the class. There are no exceptions. The tuition for the programs is as follows: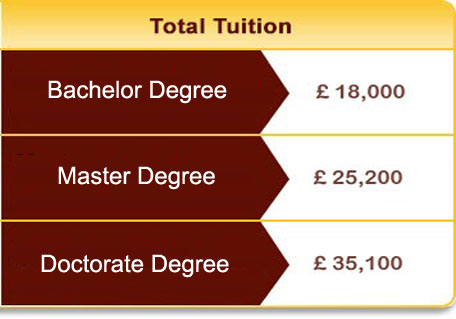 Fees Break-Down.
| | |
| --- | --- |
| Bachelor Degree | £150.00 per unit |
| Master Degree | £420.00 per unit |
| Doctorate  Degree | £585.00 per unit |
Miscellaneous of Fees
| | | |
| --- | --- | --- |
| 1. | Application Fee (non-refundable) | £ 50.00 |
| 2. | Student Registration (Yearly, non-refundable) | £100.00 |
| 3. | Late Payment Fee | £100.00 |
| 4. | Diploma | £100.00 |
| 5. | Diploma Replacement | £100.00 |
| 6. | Certified Transcript | £25.00 |
| 7. | Deferred Payment Fee | £75.00 |
| 8. | Returned Check Fee | £35.00 |
| 9. | Examination Fee (undergraduate) | £385.00 per candidate |
| 10. | Examination Fee  (Graduates) | £450.00 per candidate |
| 11. | Student ID Card | £35.00 |
| 12. | Graduation Fee (one-time charge) | £500.00 |
| 13. | Graduation (Non-Attendance Fee ) | £350.00 |
| 14. | Course Add/Drop Fee | £25.00 |
| 15. | Late Registration | £100.00 |
| 16. | Student Technology Fee: Non-Refundable After the 10th day of class enrolment | £120.00 |
| 17. | Credit Evaluation Fee | £100.00 (per subject) |
Note: Students must purchase textbooks and other required study materials, estimated between £350 – £700 per year. Students will not be able to pass a course without the required course materials.
Why Choose AIU.
Alliance International University offers everything you are looking for: world-class resources on a human scale, more academic opportunities than any other university
2. Alliance International University is One of the great centres of research, knowledge and innovation, the A IU is one of World's largest providers of 100% online undergraduate and postgraduate degrees.
3. Boost your employability and study for a recognised qualification by online distance learning through AIU. Fund your course with student affordable small monthly instalments and pay nothing to begin.
4. Scholarship Available for Financially Needy Students reducing Tuition Fee by over 90% more Financial Aid than any other Private Government Accredited
5. Our reasonable fees mean students of moderate means can gain access to quality education, which will expand their range of choices, opportunities and qualifications for the future.
6. Study flexibly wherever and whenever you choose
7. Internationally recognised programmes
8. Student monthly affordable instalments available to fund your entire course
9.   Access to expert tutors and world class support
 These things will arrive at your door: authoritative textbooks, clear study guides, supplemental workbooks or tapes, and exam sheets.
 Distance education lets you study and learn without disrupting your current job, leisure activities, or family life. Submit your exams at your own pace; and take them with your books and notes open! This is a proven educational method that helps lock in key facts and important concepts.
 If you need help, just write an email or call us. Our courteous support staff will give you a prompt, personal response.
 Our professional faculty boasts excellent teaching credentials and extensive educational experience. We're here to guide you from Lesson One to graduation.
 AIU is surprisingly affordable. With a low down payment, you can join our interest-free monthly tuition plan. You'll never pay a penny in finance charges.
 At graduation, you'll receive your globally and internationally accredited University Degree. GRADUTIONS are held in Caribbean, Africa America, UK each year.
PAYMENT OF FEES
If you wish to enrol you must complete and return the Application Forms to: Dean Of Admissions, Alliance International University, (see the payment details below to use this service). Once you make the payment you must send a copy of the receipt to us by email are text so we can ensure your money has been received. Students will be expected to purchase study materials and textbooks per subject relevant to their studies. You will also be required to pay a small graduation registration fee which becomes payable during the course of the end of the  year.
Apply now! And you can start at anytime.